What's all this about?
Armed with a team of barbeque and
automotive experts and a 1989 Saab 900
purchased for $400, Team Carbeque is a
unique racing team determined complete the 24 hours
of LeMons... all while making barbeque under the hood.
Find out more: >> Click here to read our mission statement
Posted by The Gearhead on October 27, 2011, 2:14 am CST
Before getting started, here are the photo galleries for our team!
Picking up where I left off, Wednesday afternoon (one day left) some cheap sheetmetal was procured from a local junkyard. With help from a stool that also doubled as a generator, and a teal Makita angle grinder, a piece of metal suitable to lay the cardboard bodywork templates was freed from it's van-shaped shackles.
Below is an example of Adam's compulsive urge to thumbs up every time a camera is around. This type of energetic enthusiasm historically leads to near death experiences. (I'm frankly surprised we still have all of our thumbs!)
After these photos were taken, we basically went straight home and started stenciling the cardboard templates (shown below) onto the sheetmetal, cutting, and drilling. The pitmaster finished the BBQ box and went to sleep early, of course. Willy pulled up the next day while we were finishing up fitment of the front splitter. Putting the extra time to use, he installed what you'd call "a super bitchin gps lap time display" in the 900. Then he was done, and we had to go. He should know by now real professionals finish putting their car together at the track. Right?
After spending the night dragging a full sized trailer behind an RV through Joliet (I kid, it was only a few hours), we finally found the track and unpacked. It would have been in the dark, but luckily this trailer had halogen lights that could probably cook bbq (don't tempt us) so it was only dark until the generator was started. We used beer to fuel the setup process. Friday morning we screwed the sideskirts on and zoomed through tech and bs inspections, earning the justice stencil from some beer and danish kringle backsheesh. I'd like to think this ultimately helped keep the Judges from crucifying us over the course of the race. We were reassigned to class B and given zero BS laps. You can see our radio transmitting meat thermometer mounted on the hood.
Also, who doesn't appreciate a Big Lebowski themed racing team?
There were some other fantastic teams, some that we remember racing with at Gingerman like Team Sheen...
Cardinal Sin Racing, although they re-themed because one of the team member's girlfriend's family objected to the sin painted on the car for Gingerman. Click here to see it!
The Dos Limons duel Ford Fiestas. See they've got the spirit. They came to the track and their transmission isn't even in yet!
I think that's the Bucksnort BMW..
A Mercury Bobcat, which is a rare badge engineered Ford Pinto..
An Opel GT with a Mazda rotary engine attempting to run on Harley Davidson carbs...
A real live Reliant Super Robin (with the biggest and possibly most ill-advised engine they made) showed up, making perhaps the best judgemobile ever. It was used as a bribe for the team racing a VW squareback.. They had to buy a lot of shiney bits to get the decrepit Schnitzelwagon on track, so they needed to make the judges like them a lot. They win.
Byte Marx came out, a USSR themed team
We woke up early on Saturday morning to snag the coldest showers EVER, and we all stumbled over to driver's meetings. That gave way to green flag racing, and it was on!
Then it was off. Two spins in the first few laps meant The greasemonkey was out, and I was in. About 20 laps later a feisty competitor underestimated turn one and hit the Carbeque hard enough to punt it off course, that was our third black flag. The rules say if you get 4 black flags in a single day you are out for the weekend, so we decided to lay back and mess with the transmission, which was starting to go south. We started off with a single rack in the heaterbox, and the new design managed to cook it through even with our limited track time!
...And early on Saturday with 3 black flags, a damaged car, in our second race it all payed off. We had done it, the dilapidated SAAB had cooked a rack of our own recipe dry rubbed ribs using mankind's most marvelously complex oven...an internal combustion engine. The car felt a little slow, almost asthmatic, which enticed other drivers to take more and more zealous passing maneuver. While the ribs were coming off I couldn't resist the urge, Makita (the angle grinder) and I made an intake hole in the airdam to get cold air to blow onto our open cone air filter.
During the driver's meeting Sunday morning, the Jay told everyone that there were a lot of black flags among many teams, and that on Saturday a number of teams sat out because of it (surely he wasn't talking about us). We whistled and nodded as Judge Phil added "We don't give penalties because we're sadists, that's just a coincidence! We do it to keep you safe." The second and third racks went in....
And we sent Willy out, it was his first turn to drive in the race! Of course he was fast, and stable, and the cold air intake seemed to be really helping out. The car was actually able to hang with the other cars on the straights with a good enough corner exit speed.
Then as luck would have it, Willy gets squeezed off course about an hour into his scheduled stint.. He claimed he was avoiding contact with other cars by going four wheels off. The judges disagreed, as sadists do. We were happy he decided to not let another car crash us off again with contact and took the black flag. On the bright side, my vankensteined front splitter dug into the ground during the high speed off and part of it bent completely underneath the car. Structurally it held up perfectly, and it was quickly bent back into shape (and autographed)..
After buffing it out...with a can of spraypaint...It was time for my second stint. The transmission was getting crunchy and I figured the best I could do was rev match, heel toe into a few choice corners and hope for the best. And that fortunately, as team captain, was what I was graced with. The other teams were settled into a rythm, and many were out or putting cars on track with considerable mechanical problems. I remember seeing a car that was covered in black soot from its own pluming exhaust, and the Gaguar wasn't running great as the only times I had seen the car rolling prior to this was it being pushed back and forth through the pits. This was good for me because it meant that I could dice and have some good battles with it, it is afterall one of my favorite lemons cars. The only bad part was that the battery for my onboard camera went bad, and with a full charge only recorded for about 3 minutes, and Willy's camera was rejecting the memory card. At least I'll remember the epic battles I was having picking through the pack. My fast time was a 1'58.3 which is actually fairly acceptable, especially since I was able to run below two minutes consistently.
I came in after the hour and thirty minute stint was up, and we pulled it in going to fuel. In the pits I noticed I could get the car to go into second gear again...however I think this had a large roll in misaligning the internals of the transmission and the next two stints were short and grindy. We ended up tossing in the towel around mid afternoon and left early, all in all a race of triumph and tragedy. We did cook 3 racks of ribs over the weekend and looked damn good doing it, and had a fast lap that placed us comparably with other cars, and met many new friends. I'd call it a win anyway, even though our final result positioned is in 81st place with 89 laps on the board (same as the cars birthyear, nice). Final stats are posted here. Till next time...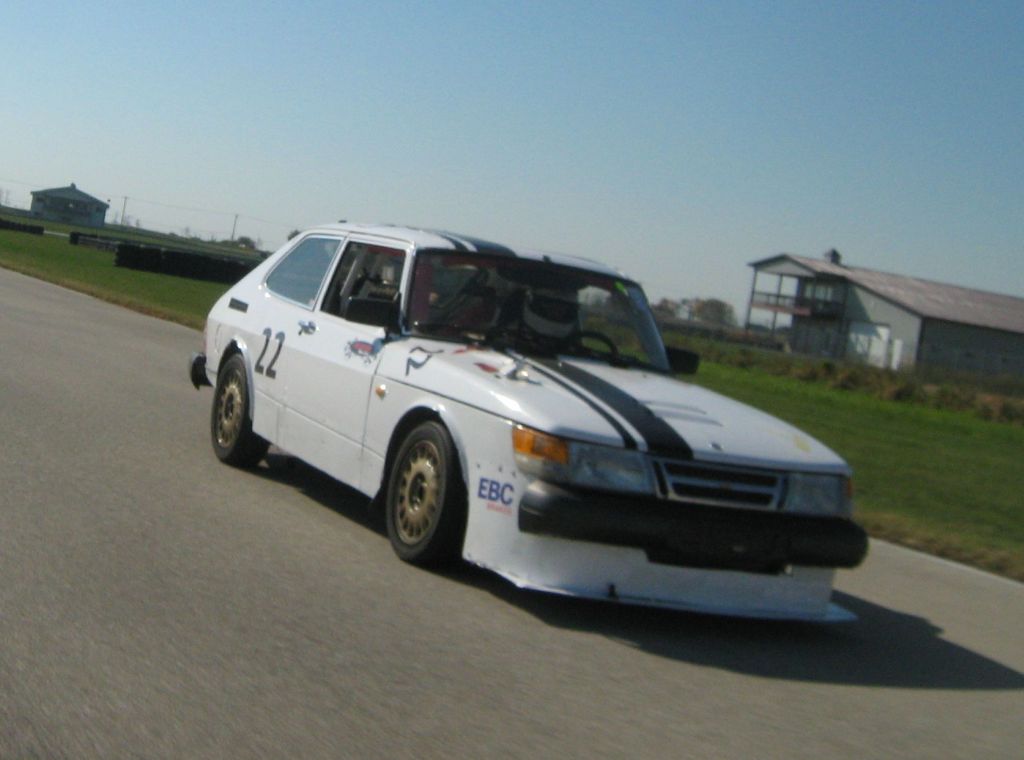 PS in this shot the Team Captain is behind the wheel! Man that's a good angle...